Child Foam-Filled Lifejackets from £27.91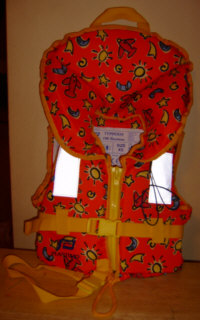 | | |
| --- | --- |
| &pound23.26 | ex. VAT |
| &pound27.91 | inc. VAT |

Code: 2256L
Overview
Baby/Child life jackets ranging from 0 to 40kgs
Our smallest baby lifejacket (Model 20030) is sized 0 - 10kgs with a bright yellow and orange design. This is the smallest foam-filled life jacket we sell and suits the smallest sailors in the crew between 0-10kg. It has a much larger and more stable foam collar than our larger baby life jackets that cover the 20-40kg range and offers greater protection. Ideal as a basic lifejacket for use in just about any kind of boat or water based location!
The Child 20030, 20031 and 20032 lifejackets are ergonomically designed to be comfortable to wear. Specifically designed to turn the unconscious wearer face up and support the head. Jacket has 45mm webbing waist strap, nylon zip, whistle and 30mm webbing crotch strap with "easy thread" buckle. The segmented collar supports the head in the water, but lies out of the water when the jacket is in normal use. Also features 3M reflex stripes, which reflect searchlights to a distance of 1.2 miles.
This range of jackets provides from 35 to 65 Newton's of buoyancy, is CE certified and conforms to European standard EN395. For use in sheltered waters. Heavy clothing can effect turning into the upright position once in the water.
| | | | |
| --- | --- | --- | --- |
| Code | Buoyancy | Body Weight | Chest Size |
| 20030 | " 35 Newtons" | " 0-10kgs" | " 40 - 60cm" |
| " 20031" | " 55 Newtons" | " 0 - 20kgs" | " 45 - 70cm" |
| " 20032" | " 65 Newtons" | " 20 - 40kgs" | " 50 - 80cms" |
"No" Scales? Below is a rough guide to the average size of babies in the UK:
Boys - 3 months 6.0kg, 6 months 7.8kg, 9 months
Related Products