Echomax EM230 Radar Reflectors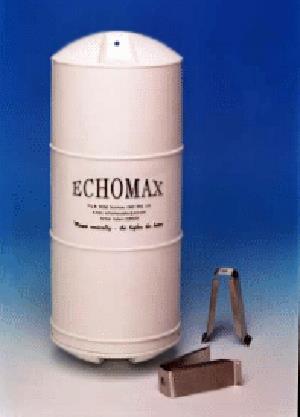 | | |
| --- | --- |
| &pound83.30 | ex. VAT |
| &pound99.96 | inc. VAT |

Code: 2198CP
Overview
ECHOMAX RADAR REFLECTORS
Echomax has a superb range of Radar Reflectors. Here we list the most popular from the EM180 to the EM230 models. The Echomax Radar Reflector has a robust Polyethylene case
MODEL EM180 - The EM180 has a documented maximum radar cross section of 8M2 and is suitable for vessels up to 7-8 metres. We have utilised the largest possible patented symmetrical stacked array with the smallest possible robust Polyethylene case with minimum windage and weight. The EM180 is suitable for deck, mast mount fixing, or halyard suspension and is available in white, orange or yellow. Used extensively on marine buoys and for tsunami warning buoys. Suitable for vessels 6m to 8m.
Dimensions:
Height: 478mm (overall)
Width: 197mm (overall)
Fixing Centres: 435mm
Fixings: 2 x 8mm stainless eyelets
Weight: 1.4kg
MODEL EM230M (MIDI) The medium sized Echomax radar reflector with a maximum 20M2 radar cross section is suitable for 8-15 metres sailing yachts - see photos of this being suspended from the spreaders by Arc rally entrants at Las Palmas -RIBs and motor cruisers. Suitable for mast, deck bracket or halyard suspension. Fully tested by QinetiQ. Exceeds RORC/ORC/WCC/ISAF requirement of 10M2. Suitable for Vessels 8m to 15m.
Available in white, orange, yellow, red, green or black.
@+/-3°-20m² peak, 75% @2.5m², 100% @1.25m²
Dimensions:
Height: 450mm
Width: 245mm
Fixing centres: 408mm
Fixing holes: 8mm
Weight: 1.9kg
The EM230 model in particular has been successfully tested by QinetiQ to ISO 8729-1999, and meets RORC,ORC,ISAF 2012/13 and WCC requirements of 10M2.
Echomax EM230 has now been allocated a NATO Stock No.5840-99-742-6193 following the adoption and use of the Echomax EM230 by the UK Military Forces and others throughout the World. Used by the US Navy for target and other uses.
The EM230 has Ships Wheel Mark certification for life boats and rescue craft as from December 2012 and copies of the BABT- TUV Module B certificate can be seen and downloaded from the Certificates section of this website.
Mast, halyard or deck bracket mount. Available in @+/-3°-24m² maximum - Stated Performance Level (SPL) +/- 3° 4.7m²
Dimensions:
Height: 610mm
Width: 245mm
Fixing Holes: 8mm
Weight: 2.3kg
Fixing Centres: 569mm
EM230 are available in white, bright orange or black (other colours to order).
MODEL EM230BR - Restyled case with fixing centres of 545mm, being direct replacement for the Firdell Blipper 210-7 utilising existing bracket installation on mast. Same response as the EM230 above. Ship's Wheel approved, suitable for vessels 8m to 15m.
Now available with brown PE case for classic boat owners.
Dimensions:
Diameter 245mm
fixing centres 545mm
Height 595mm
Wt 2.3kgs
Optional Extras - Stainless steel mounting bracket
If you are confused or not sure of your exact requirements to comply with the Code of Practice, then let ADEC Marine work it out for you. Safety check list request
Media Downloads
Related Products