Davis Weather Stations £360.00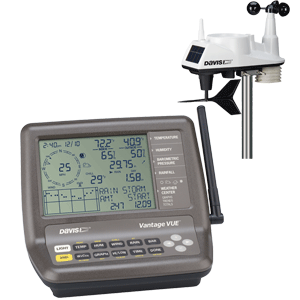 | | |
| --- | --- |
| &pound300.00 | ex. VAT |
| &pound360.00 | inc. VAT |

Code: DAVIS.VUE
Overview
DAVIS WEATHER STATION
Davis Instruments introduces the all new Vantage Vue™ weather station, combining Davis' legendary reliability and toughness into a station that's easy to install and use. Vantage Vue is fully featured, highly accurate and affordably priced. It has frequency-hopping spread spectrum radio technology, wireless transmission up to 1,000 feet (300 m), weather updates every 2 ½ seconds, a glow-in-the-dark user friendly keypad, on-screen data graphing and numerous other useful features.

UK version. Proudly Made In The USA
Vantage Vue gives you all the weather data you need. You'll see current weather conditions, including indoor and outdoor temperature and humidity, barometric pressure, wind speed and direction, dew point and rainfall. You'll also get weather forecast icons, moon phase, sunrise/sunset times, graphing of weather trends, alarms and more. Vantage Vue also boasts the innovative Weather Center button that displays additional data on weather variables for today and over the last 25 days.
Features:
Displays indoor and outdoor temperature and humidity
Displays wind speed, wind direction, highest wind gust and wind chill
Displays heat index and dew point
Displays rainfall and rain rate
Displays time, sunrise and sunset and moon phase
Updates every 2.5 seconds (up to 10x faster than the competition)
Records wind speed as low as 2 mph (3 km/h) and as high as 150 mph (241 km/h)
Records indoor temperature from 32 to 140 degrees F
Solar-powered with stored energy backup
Sealed electronics in the integrated sensor suite provide protection against the elements
Glow-in-the-dark keypad for night viewing and domed buttons for better feel
Easy-to-read and use, backlit LCD screen at 3 x 4.38"
Frequency-hopping spread spectrum radio for reliable data transmission
50 on-screen graphs for comparing current and past weather
22 alarms to warn of high winds, possible flooding etc..
Please be aware delivery is approximately 10 days from receipt of order.
Media Downloads