The Importance of Life Rafts
Owned by the rich and famous including Steven Spielberg and Roman Abramovich, yachts are well and truly a part of the high-end lifestyle that comes with being a millionaire, but behind any luxury yacht comes life rafts.
Alongside every boat there should be a life raft suitable for the capacity of the vessel. As well as lifejackets it is vitally important that life rafts are abroad each vessel before takeoff. The potential risks of the sea are too vast for you to ignore the importance of a lift raft.
In the event of an emergency, it is important that your life raft is easily accessible and stowed away from any possible harm. If you run into trouble on your boat, it's vital that you can escape onto your life raft quickly and efficiently; therefore before you set off on your boat make sure that you do an emergency test to time how long it takes you to exit onto your life raft.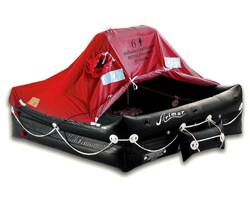 Modern boats now include a variety of living essentials including cooking equipment and this makes a boat a floating fire hazard. It's highly recommended that you fit smoke alarms and carbon monoxide detectors to your boat to raise the alarm of a boat fire quickly.
With a high risk of an explosion from the fire, it is important you do not try to fight a fire which has got out of control; instead you should exit onto your life raft as soon as possible. This will be vital to ensuring that you prevent injuring yourself severely. Always remember that your vessel is replaceable whereas your life is not.
With ADEC Marine we supply a variety of life raft services including life raft hire for yachting, leisure needs, all the way through to commercial use. We also supply life rafts which are available to purchase, considering your requirements ADEC can supply the ideal ISO life raft.
Alongside our outright and hire life rafts we offer life raft servicing. It's vitally important that you regularly get your life raft maintained and serviced to ensure maximum safety whilst you are on your boat. If any of our services interest you or you would like to learn more about life rafts, please get in contact with the ADEC Marine team today.