Customer and Product Reviews
Customer Reviews - 27/7/11
Can I take this opportunity to ask that you pass on our immense gratitude, to everyone involved in getting the flares to us, especially, at such short notice. It is rare to find a company that will offer such high standards of customer service. The flares performed perfectly and my customer was very happy with the results.
I very much look forward to doing business with you in the future.
Thanks again. Best wishes
Ted Chiswell Jones
Director
Illuminarium Ltd
Special effects systems and fire art
What The Magazines Say ....
SAILING TODAY MAGAZINE - Lifejackets on Test January 2010
The ADEC Lifejacket - Despite its budget price, the red Velcro enclosed lifejacket performed very well in our pool test. It is comfortable enough round the neck... We really like the way the crotch strap is sewn on at the back so it can't be removed. As we say elsewhere in this article, a lifejacket without a crotch strap is unlikely to help you, particularly if you are unconscious. There are optional hoods and lights for this jacket.
ADEC PRO lifejacket - Motor Boats Monthly February 2006 issue.....the jacket uses traditional stainless steel buckle to fasten, while the fleece collar is a nice touch, protecting the back of the neck, even if you wear it with just a T-Shirt.. The inflated bladder is dotted with reflective strips and a red cord lifting becket is conveniently located.
Easily grasped behind the head, the spray hood comes with a large clear window, reflective patches and basic breather holes. MBM Rating - 4 out of 5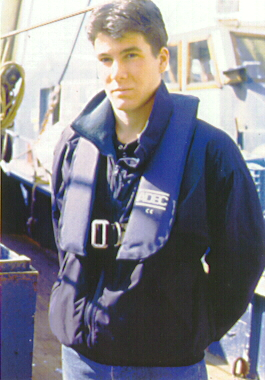 ADEC PRO LIFEJACKET