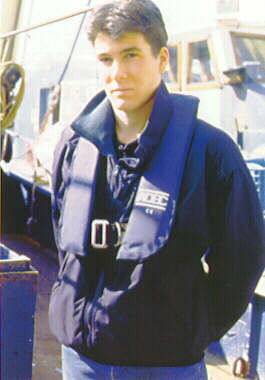 Lifejackets have been saving lives for generations. A lifejacket, also known as a PFD (personal floatation device), life vest or buoyancy aid, is a very important piece of equipment. The purpose of a lifejacket is to aid the user in staying afloat in water, even if they are not conscious. They come in different sizes to accommodate children and adults as well as variances in body weight.
The first examples of lifejackets were examples of rather unusual buoyancy aids, with people using inflated animal skins or hollow sealed fruit as an aid when crossing deep streams, moats and rivers. Their history can also be traced back to simple blocks of buoyant wood and cork used by Norwegian sailors.
It was not until lifeguard services were formed that the personal safety of boat crews was properly addressed. Lifejackets were not part of the equipment given to naval sailors until the early 19th century. The first life jacket, made out of cork, was patented in 1765 by Dr John Wilkinson. In his book, he described the life-saving benefits of his 'cork life preservers'.
As cork is a hard and rigid material, it came to be replaced by pouches containing watertight cells filled with Kapok, a vegetable material honeycombed with air cells. Kapok was a much softer alternative to cork and so became the standard life-jacket stuffing around the turn of the century. It was particularly practical on large navy ships where the sailors wore their lifejackets while sleeping. Cork and kapok lifejackets were standard for many years until the War bought with it the inflatable lifejacket.
Foam began to replace kapok in 1969 because of its inherently buoyant qualities, as opposed to inflated floatation. This brought with it the flexibility to produce the life-jackets that we see and use today.
At ADEC Marine, lifejackets are our speciality. As one of the leading suppliers of leisure and industrial lifejackets, we want you to invest in safety and not just buy for the moment. Our experienced team of sea safety professionals are fully trained on all of the products that we supply and can answer any questions or advise you on any of the lifejackets and buoyancy aids that we stock. Please contact us for further information, we will be happy to assist.