Are inflatable boats safe on the ocean?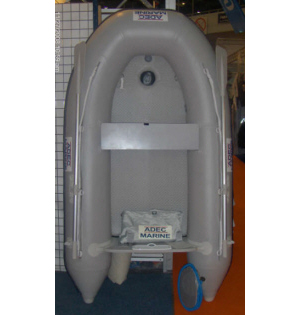 This is a question we often get asked as people are concerned about the safety of inflatable boats, largely because they can puncture on sharp items.
Fortunately, the fact is that inflatable boats are just as safe as traditional boats, and in some cases they may even be safer!
Inflatable boats are practically unsinkable.
The tubes are actually separate chambers so if one is accidentally punctured and deflates, the craft remains buoyant because of the air in the remaining tubes.
Inflatable boats are more buoyant.
Because of the oversized inflatable tubes, inflatables are quite buoyant on the water and very difficult to capsize thanks to the low center of gravity.
Inflatable boats are to get in to from the water.
Unlike a hard rowboat, which can be easily tipped over when trying to re-board from the water, a swimmer has no trouble climbing into an inflatable boat.
Inflatable boats used by the Coast Guard.
From the organisation that knows inflatable boat safety, the US Coast Guard as well as the military and other emergency personnel uses inflatables as rescue craft.
It's important that you keep your boat in good condition when it is out of the water and stored. Here at Adec we can supply a complete range of inflatable boat spares for all different types of boats, tenders and dinghies.
As well as supplying spares for inflatable boats, we can also carry out service/inspection, repair leaks, change inflate/deflate valves etc. With the right care and attention, you will enjoy years of fun in your inflatable craft! Please call us on - 0208 686 9717 to find out more about our inflatable boat services.