Lifebuoy Lights - MED & SOLAS Approved from £23.40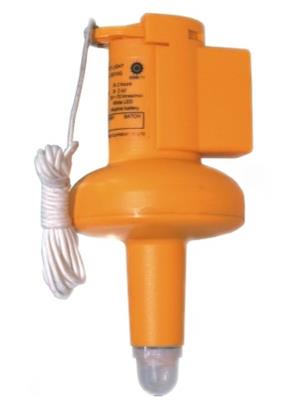 | | |
| --- | --- |
| &pound39.83 | ex. VAT |
| &pound47.80 | inc. VAT |

Code: 2303CP
Overview
LIFEBUOY LIGHTS
We can offer a wide range of lifebuoy lights, our most popular Model is the QDL10 Lifebuoy Light which is a MED and SOLAS Approved Lifebuoy light, lithium battery operated and comes complete with mounting bracket.
SOLAS & SHIP'S WHEEL MED APPROVED
LITHIUM BATTERY OPERATED 5 YEAR LIFE
LIFEBUOY LIGHT WITH MOUNTING BRACKET MODEL QDL10
FLASH FREQUENCY 50-70 TIMES PER MINUTE
DURATION 2 HOURS
The QDL10 self-igniting lifebuoy light is equipped with lithium battery and LED bulb in white colour. It is driven
by constant current, lower power consumption, safe and reliable, and the power is controlled by a reed
switch and magnetic material. It complies with the requirements of SOLAS 1974, as amended, LSA,
MSC. 81(70), MSC. 36(63), MSC. 48(66), MSC. 97(73).
2. Main Technical Specifications
1. Shell (material) Lens: PC/Body: ABS
2. Light source 0.5W/LED
3. Battery type Lithium battery: CR123A
4. Duration ≥ 2 hours
5. Luminous intensity ≥ 2 cd
6. Light type Flash
7. Validity Five years
8. Dimension Ф75mm×158.5mm
9. Weight 107g
Just contact us if you cannot see exactly what you are looking for and we will be happy to assist.
If you are confused or not sure of your exact requirements to comply with the Code of Practice, then let ADEC Marine work it out for you. Safety check list request
Related Products