Rearming and Maintaining your Lifejacket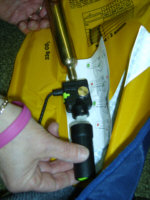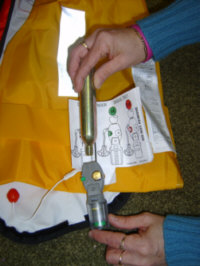 Trade Members Only:
Please Log In to Order
Code: ljrearm.info
Overview
Re-arming and Maintaining your Inflatable Lifejacket - REGULAR SERVICING IS VITAL
We list below some points worth remembering and carrying out to maintain your lifejacket.
NOTE - Always remove the gas CO2 cylinder before checking the firing device.
1.Inner Bladder - Open the jacket up and check the bladder. Folds or creases can creates weak points. If these turn white, the bladder is wasted.
2.Gas Cylinder - Unscrew and check that the cap of the cylinder has not been pierced. Check for corrosion on the cylinder. Check the cylinder weight shown on the side of the cylinder corresponds with the lifejacket data panel.
3.Manual Pull cord - With the cylinder still removed, unclip the cord's retaining clip and check that the pull cord moves freely.
HOW TO REARM
Standard Automatic Mechanism - Check for the green colour indicator on the base. If spent, this will simply pop off. The firing mechanism should then be unscrewed and replaced.
Hydrostatic Firing Mechanism - The casing must be opened first to remove the gas cylinder. Red and green indicators show whether the mechanism is spent or live. Be sure to "twist" shut the casing when rearming. Most hydrostatic inflation lifejackets come with a key to open up the casing.
If you are unsure about servicing your lifejacket - leave it to the professionals. ADEC Marine can service your lifejackets for you at only £6.75 per jacket plus VAT. Repairs and replacements are charged as extra, if required.
Contact us at sales@adecmarine.co.uk to arrange for your jackets to be serviced.
Related Products