VHF Marine Radio and Navtex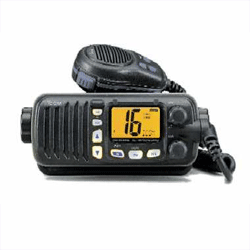 ADEC Marine are distributors for the high quality ICOM and Entel range of marine VHF radios. On our website, we show the most popular models. If you have another model or make in mind, feel free to contact us for a comparision price. We are always happy to quote for the complete ICOM and Entel range, plus any ICOM/Entel spares you may require.
We can also supply the latest McMurdo Navtex Weather communication system.
The most popular method of communicating with other boats is via very high frequency (VHF) radio.
To ensure that maritime users do not cause interference for other radio users, a part of the radio spectrum has been allocated specifically to this group and to make operation as simple as possible frequencies have been put into numbered channels. For example, Channel 16. Radio does not recognise geographic or political boundaries, and to ensure that boats travelling on international voyages can always communicate, the VHF marine band is the same all around the world. There are 55 international marine channels, a similar number of private channels (allocated on a local basis to commercial organisations) and some other unique national channels.
To make sure that your radio is fitted with the correct local channels, be sure to purchase type-approved equipment in the country of intended use.
If you cannot see what you require, please do not hesitate to contact us and we will be happy to assist, either call us on 020 8686 9717 or contact us by email with your requirements.