Miscellaneous Marine Safety Items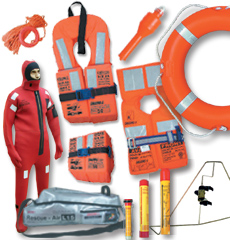 ADEC Marine can offer a complete range when it comes to marine safety, so this section of our website covers all those items you can never find at the local Chandlers or on comparison price websites. We have Cyalume lightsticks, floating keyrings, Intelight tricolour navigation lights, signal shapes, gas detectors, emergency ladders, air horns, collapsible buckets, dinghy wheelers for your inflatable boat, cable cutters and thermal protective aids.
Of course, if you cannot find what you are looking for, just contact us and let us know what you were after. ADEC Marine are excellent at sourcing and supplying all types of marine safety and fire fighting equipment. We have been in the marine industry for over 30 years and have a wealth of knowledge and experience.