Liferafts and Liferaft Accessories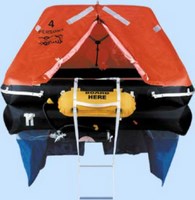 ADEC Marine have their very own range of ISO9650 approved inflatable liferafts. These range in size from 4 to 12 person capacity and are available in either hard container or soft bag valise. These liferafts are suitable for Charter Operators when accompanied by a grab bag to bring the liferaft up to full SOLAS B specification.
We can tailor the ISO 9650 liferaft to your exact requirements by put a full SOLAS B survival pack into an ISO 9650 specification liferaft. This saves having to carry a grab bag when space is at a premium. Just let us know what you require and ADEC Marine will do the necessary.
We can also supply all your liferaft accessories - Hammar H20 Hydrostatic release units, liferaft cradles, liferaft lashing straps and grab bags.