Mobmat - Man Overboard Recovery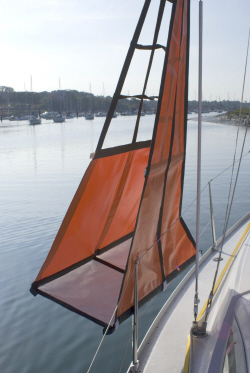 CLICK ON THE IMAGE ABOVE TO BUY AND FOR FULL DETAILS AND VIDEO
MOBMAT - Man overboard recovery system - Rated Practical Boat Owners Magazine Best Buy for 2013
Mobmat is designed for rapid deployment with the short handed sailor in mind. The MobMat serves as a man overboard rescue sling as well as a collision mat. It is designed to fold neatly away when not in use and takes up very little storage space. It can be either rolled up or hung on the rail for easy access.
The Rescue sling's special design enables a single crew member to attach the mobmat to a halyard and deploy it effortlessly from its bag. The MobMat is designed to lie just under the water thus allowing an unconscious casualty to be scooped into it. A semi-rigid shape is maintained with battens. The mesh base allows water to drain away on lifting, thus lightening the load.
The MobMat unlike other slings which roll and squash the casualty against the hull, enables the casualty to remain in a comfortable position throughout. Additional attachment loops mean the lift can be steadied as the casualty is winched up and over the rails.
The MobMat is available in two heights, one for high freeboard vessels and one for low freeboard (>1m). The MobMat when folded is only 60 x 80cms.
Construction is a mesh base, pvc sides, polyprop webbing and stainless steel D rings. The unit is compact for stowage and lightweight.
Also available is the Ribmat, same as the Mobmat but with a shorter apex, making it suitable for rescue ribs with an A frame, or pontoons, locks or harbour constructions.
Click below for more details and to BUY