Free Safety Gear with every ACR EPIRB or PLB purchased
Marine Electronics - PLB, VHF, EPIRBS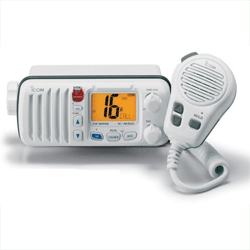 ADEC Marine can supply a wide range of various GMDSS handheld VHF, ACR EPIRBs, Personal Locator Beacons and AIS Recovery Beacons.
WHY AN EPIRB? Drastically increase your probability of survival at sea with the multiple built-in features of the ACR GlobalFIX™ V4 marine distress EPIRB. Upon activation, the ACR EPIRB has a GPS which accurately fixes your exact location. Your coordinates are then broadcast via a powerful 406 MHz distress signal to Search and Rescue forces worldwide. In the absence of GPS data, orbiting Cospas-Sarsat satellites can accurately triangulate your position using the 406 MHz signal alone. A 121.5 MHz homing signal further guides searchers to your exact position.
OR DO YOU NEED A PLB? Small and mighty, the ACR ResQLink™+ PLB is a buoyant, GPS-enabled rescue beacon designed for anglers, pilots and backcountry adventurers. At 5.4 oz and topping just 4.5 inches, the ResQLink+ is both a small and buoyant Personal Locator Beacon. Small enough to be carried in your pocket, clipped to a backpack or stored inside an inflatable life jacket.
We can supply from the McMurdo, Jotron, Icom, Kannad or ACR range of marine electronics.
If you cannot find exactly what you are looking for, just contact us and we will be pleased to quote for your exact requirements.