Lifejackets - Adult and Child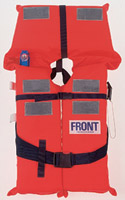 ADEC Marine can supply everything you need when it comes to lifejackets. They are our speciality. We can offer you foam-filled lifejackets, inflatable lifejackets, buoyancy aids, personal flotation devices, industrial workers lifejackets, single and twin chambered CO2 inflation jackets. You name it, we can supply it. Our lifejackets are all approved to the necessary worldwide approval standards where applicable.
Here we offer our most popular range of jackets suitable for Charter and Fishing Boat Operators. We have the Besto and Eval Foam-filled range of lifejackets, plus our very own ADEC Range of ISO approved CO2 inflation lifejackets.
Plus we can supply everything you need for your lifejacket - rearming packs, lifejacket lights, crotch straps, safety lines, safety harnesses, spray hoods and more.
If you are not sure exactly what you require, let us help, use our contact form or just call us on 020 8686 9717.