What do we do when we SERVICE YOUR LIFERAFT??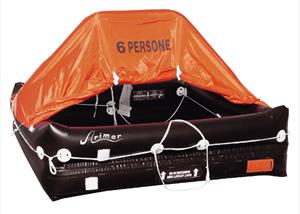 Overview
LIFERAFT SERVICING - TYPICAL INSPECTION PROCEDURES
Below is a general guide and may or may not apply specifically to your liferaft. If you require a more detailed description of the service to be performed on your liferaft then please do not hesitate to contact us. However, we trust that the below guide gives you a good insight into the work carried out during a liferaft service.
The container or valise is visually inspected for damage.
The container or valise is opened and the liferaft is removed for inspection.
The CO2/N2 cylinder is removed for later inspection and weight tested.
A detailed inspection is performed while unfolding the liferaft to identify any damage or deterioration of the fabric or adhesive.
The raft is filled with dry compressed air to its proper inflation pressure. The pressure relief valves are tested at this time to confirm proper operation.
The liferaft is further inflated to stretch the fabric prior to commencing the specified leak test on each tube. During the pre stretch, the fabric and seams are again inspected for any signs of deterioration. All attachments are also inspected at this time.
The air chambers are then pressure tested for the specified time. The pressure is recorded at the beginning of the test and checked again at the specified time. The end pressure is adjusted for temperature and pressure changes. The end pressure is recorded and checked for loss.
The equipment packs are checked during the pressure test period. Dated items are replaced only if they have reached their stamped expiration dates. The CO2 cylinder is inspected at this time for damage, hydrostatic test date, and is then weighed.
UK MCA/SOLAS and USCG liferafts must undergo additional testing after ten years of service. These tests include a Necessary Air Pressure Test (NAP), a floor seam test, and the l
10. At this time the emergency packs are secured to the inside of the liferaft. The light system, cylinder and inflation system are reconnected and inspected. The valves are tightened and checked. All attachments are inspected and secured.
11. The liferaft is then repacked according to the manufacturer's specifications. The firing cable for the inflation system is attached to the painter line, making the liferaft fully operational.
Container gaskets or seals are replaced and bursting straps are installed. Valises are sealed or laced. All labels are inspected and replaced as required.
All test results, repairs and renewals are recorded on the service inspection report. Documentation is kept on file at our premises as required. A Certificate of Service is issued and the owner is notified that the liferaft is ready to return to service.
Additional equipment may be packed into your liferaft if you so require and if possible to do so. Consult us with your requirements.