Hammar H20 Hydrostatic Release Unit for Liferafts £51.00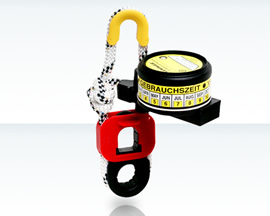 | | |
| --- | --- |
| &pound47.50 | ex. VAT |
| &pound57.00 | inc. VAT |

Code: 2310CP
Overview
The Hammar H20 Hydrostatic release unit for use with liferafts. This HRU needs no annual service, maintenance or spare parts. You simply install a new one every two years and dispose of the old one.
With the H20, installation is both easier and quicker. Compared with conventional release units, the Hammar H20 offers savings of up to 50% over a 10 year period.
So if you want to make a sizeable difference to your economy insist on installing the Hammar H20, the small release unit that gives you the big deal.
DETAILS - The white strong rope of Hammar H20 is secured to the deck or liferaft cradle and attached to the liferaft lashing with a sliphook. If the ship sinks, the water pressure will, within 4 metres, activate the sharp knife which cuts the white strong rope and the liferaft will float free. As the ship sinks, the liferaft painter line will be stretched and the liferaft starts to inflate. The Red Weak Link™ breaks and survivors can board the floating liferaft. The Hammar H20 needs no annual service, maintenance or spare parts, but MUST BE REPLACED AFTER TWO YEARS.
Approvals
The Hammar H20 hydrostatic release units are approved all over the world, fulfil the requirements of the SOLAS 74/96 Convention, Reg. III/4 LSA Code, MO Res. MSC. 48/(66), IMO Res. MSC. 81(70), approved to EU Directive 96/98 EC on Marine Equipment and has a Nato stock number. Release depth 1,5 – 4,0 metres according to IMO/SOLAS regulations.
If you are confused or not sure of your exact requirements to comply with the Code of Practice, then let ADEC Marine work it out for you. Safety check list request
Media Downloads
Videos
Hammar H20 HRU installation on a liferaft
Related Products