Polybottle - Pyrotechnic Storage £32.40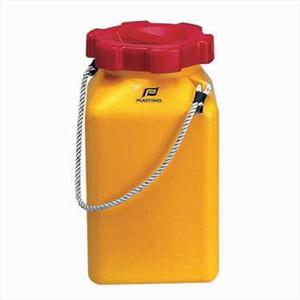 | | |
| --- | --- |
| &pound27.00 | ex. VAT |
| &pound32.40 | inc. VAT |

Code: 2182CP
Overview
POLYBOTTLES - WATERTIGHT STOWAGE
Watertight polybottle suitable for use with the safe, watertight storage of Code of Practice sets of pyrotechnics.
This polybottle is capable of containing a complete set of Code of Practice pyrotechnics consisting of 4 x red parachute rockets, 6 x red hand flares and 2 x buoyant orange smoke signals.
15 litre capacity, 35 x 25 x 25 cms
Different sized polybottles are available upon request. Please contact us with your requirements.
If you are confused or not sure of your exact requirements to comply with the Code of Practice, then let ADEC Marine work it out for you. Just let us know details of your vessel, vessel use and Coding Category and we can put together a complete package of safety equipment or complete your existing equipment to ensure you comply with the latest Code of Practice Regulations.
Related Products